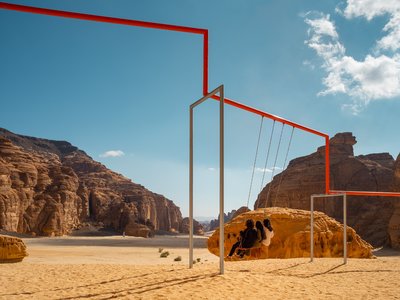 Desert X AlUla is organised collaboratively by Desert X and the Royal Commission of AlUla (RCU). It is the first site-responsive exhibition of its kind in Saudi Arabia, taking place in the desert of AlUla, an ancient oasis home to the country's first UNESCO world heritage site. An exploration of desert culture, the exhibition brings together a plurality of voices, with fourteen artists from eight countries and two local co-curators - Raneem Farsi and Aya Alireza - working together with Desert X Artistic Director Neville Wakefield.
SUPERFLEX presents One Two Three Swing! AlUla 2020, commissioned by Desert X.
One Two Three Swing! by SUPERFLEX, originally conceived for Hyundai Commission 2017, Tate Modern Turbine Hall. Developed in close collaboration with KWY.studio and Nupergo.