Vertical Migration and Pink Elements in MAAT, Lisbon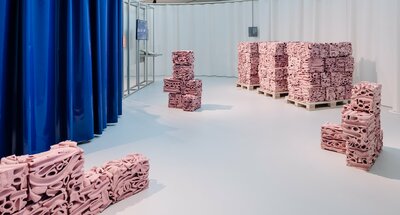 The works Pink Element no. 1/Revolving Corner, Pink Element no. 4/Penthouse, Pink Element no. 7/Corner District and Vertical Migration are currently part of the exhibition Aquaria – Or the Illusion of a Boxed Sea. The exhibition will open to the public in MAAT, Museum of Art, Architecture and Technology until September 6th 2021.
Aquaria is an exhibition that looks at how the ocean has washed up inside our cities, homes and cultural institutions, and questions how we have interiorised the notion of an ocean kingdom. Invented in the Victorian age, the aquarium as object embodies the nature/culture divide, and continues to constitute an ocean diorama, a self-contained world and a techno-natural assemblage, home to a living collection mirroring our own personal yet fictional marine world.
Curated by Angela Rui, the exhibition path unfolds through 11 installations by artists, designers, filmmakers, composers and researchers, each offering different points of view to emphasise how the ways of understanding the marine environment were once envisaged and how they should be reconsidered today.
Pink Elements consists of varying sculptural configurations of pink, coral-friendly bricks. The bricks are materially aligned with the needs of underwater creatures, and their pink colour is scientifically known to propagate coral polyp growth. Though angular in shape, each brick houses more organic forms within, porous enough for fish and other aquatic species to burrow.
The bricks are thus a work of architecture in their own right, but hold the potential to be reconfigured to suit human habitation. When presented on dry land in human spaces, the elements appear as stand-alone sculptural objects, or as structural fragments of existing human architecture – such as a corner or column. But when submerged in an aquatic environment, these structures will be repurposed by marine creatures. A pillar for humans today is a future penthouse for fish.
Pink Elements are based on the Deep Sea Minding research, supported by TBA21–Academy.