There Is An Elephant In The Room at von Bartha Gallery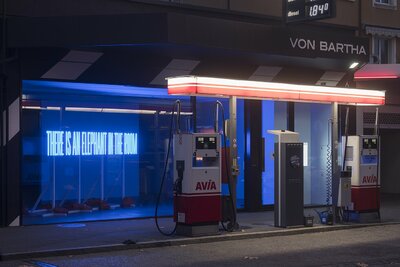 How can those of us on land respond to a message from the ocean below? There Is An Elephant In The Room brings together multiple works that address the need for humans to find ways to co-exist with other species in this watery new world. The works range from prophetic warnings to proposals for new forms of interspecies infrastructure.
Underlining the exhibition's focus on a world altered by climate change, there's a gas station directly in front of the gallery. As customers fill their tanks and smell the petrol fumes, they'll be looking in at the text-based installation There is an Elephant in the Room, which gives the exhibition its title. The work use the aesthetics of commercial signage to address the impending consequences of human consumerism. It addresses, without naming it, what we are all witnessing, but seem unable to act against.
Après vous, Le Déluge ("After Me, the Flood") consists of blue sculptures forming a dashed line on the walls, indicating an invisible yet probable limit: the estimated rise of sea level as a consequence of climate change according to the predictions of the 2015 Paris Agreement.
As Close As We Get is a series of sculptures that function as art for humans and as potential homes for fish. As Close As We Get is part of SUPERFLEX's open-ended research examining the relationship between humans and other species, proposing a new kind of urbanism that reimagines how we live together.
The exhibition will also feature works from the Bankrupt Banks series. Originally designed to convey strength, authority and confidence, these now defunct symbols become portraits of failed power structures.
There is An Elephant In The Room at von Bartha Gallery, opens today at 18:00. The exhibition will be on show from November 13, 2021 – January 29, 2022 in Von Bartha Gallery, located in Kannenfeldplatz 6, 
CH-4056 Basel.