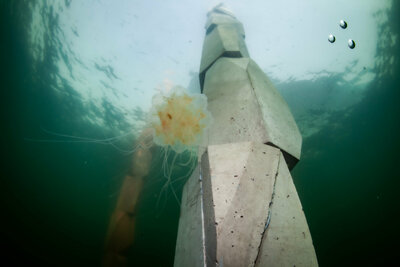 As Close As We Get installed in Copenhagen Harbour is simultaneously an experiment, a home for microorganisms, and an artwork. Above the surface, visitors will able to appreciate the artwork from the shore, and below the surface, marine life will find a place to gather. The experiment will be monitored by DTU sustain, who will test the sustainability of the material for underwater construction. The knowledge generated from this research will contribute to SUPERFLEX's larger Superrev project, which is a collaborative plan to build at least 55 km2 of reef in the Danish oceans.
As Close As We Get, 2022 is realized in collaboration with DTU Sustain and By & Havn. The project was supported by the Danish Art Council. Video by Lars Hestbæk
You can experience the artwork from Bryggebroen, 1561 Copenhagen.
As Close As We Get is part of SUPERFLEX's open-ended research examining the relationship between humans and other species, proposing a new kind of urbanism that reimagines how we live together.
View more in WORKS
As Close As We Get