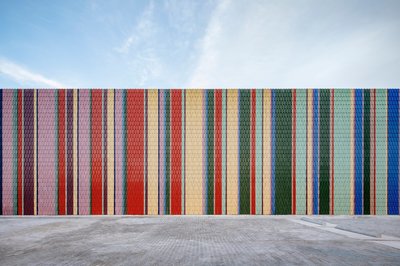 Like A Force Of Nature uses Grupo ARCA's ceramic tiles designed by Hector Esrawe to merge two phenomena: the color of currencies and the mathematics of the natural world. The colors are taken from Mexican Pesos and arranged in patterns based on the Fibonacci sequence, which is a numerical formula that appears in many kinds of organic growth, from sunflower seeds to tree branches to fish skin colorations. The colorful tiles cover the large façade of Grupo ARCA's showroom in Miami.
Like A Force Of Nature was created in collaboration with Esrawe Studio for Grupo ARCA, 260 NW 27 Street, Miami, FL, USA.
Like A Force Of Nature is a continuous SUPERFLEX concept, designed in close collaboration with Rasmus Koch Studio.
View more in WORKS
Like A Force Of Nature