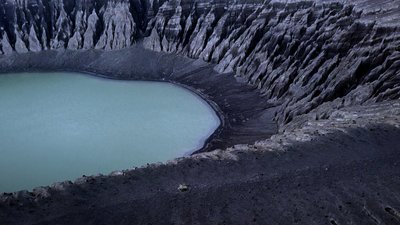 The filmwork Hunga Tonga navigates dreamscapes of earth, sea, and space by exploring the connections between humans, microscopic organisms, and the newly-formed volcanic island Hunga Tonga in the South Pacific.
Through a huge volcanic eruption ten years ago, Hunga Tonga emerged from the depths of the ocean. Being a young island, it exists as a porous interface between land and sea, rapidly evolving as it adjusts to its new life above water. Challenging human conceptions of time, narrative, and the boundaries between species, the film visualizes various alien states of embodiment. Hunga Tonga invites the viewer to experience time like a volcanic island, an ancient microscopic organism, and the ocean. As the island will tell you itself, nature is not static: there is no island outside of time.
The work is one outcome of SUPERFLEX's expedition to Hunga Tonga aboard the ship Dardanella in 2018 as part of a larger research project, Deep Sea Minding, commissioned by TBA21-Academy under the programme The Current.
Credits
A SUPERFLEX FILM
Director: SUPERFLEX
Camera: Johan Schneévoigt, Alex Jordan, Markus Reymann, Francesca von Habsburg, Dayne Buddo, Sub Kontanz
Editor: Rikke Selin
Script & screenplay: SUPERFLEX
Script consultant: Cristina Casals Soler, Victoria Mingot, Olof Olsson
Sound design: Rasmus Winther Jensen, Heikki Kossi
Foley mixer: Kari Vähäkuopus
Title signs: Rasmus Koch
Colorgrading: Dicki Lakha
Coordination: Maria Jose Felix Dias
Solar sintering experiment conceptualised and realised by: Barbara Imhof (Liquifer Systems Group)
Commissioned by TBA21-Academy