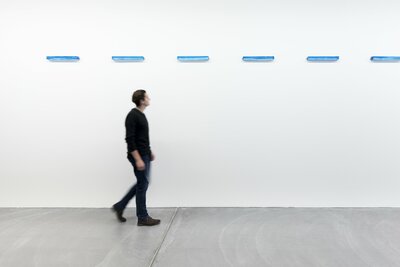 Après Vous, Le Déluge is made specifically for Galeries Lafayette in Champs Elysées, Paris. The work consists of blue sculptures forming a dashed line on the walls of the building's atrium. This discontinuous line is an indicator of an invisible border: the estimated height of sea level rise within the next century as a consequence of climate change. The height has been established according to the predictions of the 2015 Paris Agreement; fittingly, it is located in the French capital, where the agreement was signed with the unprecedented support of 196 states.
However, the work is also an intervention into the familiar space of the department store, a space defined by the very consumption that threatens the climate. The blue line functions as a reminder of the climate crisis that is rapidly threatening the structures of our quotidian reality. It is an invitation to consider the palpable consequences of climate change on our everyday lives. In this way, Après Vous, Le Déluge provides visitors with an abstract but distinct representation of what might happen to their immediate environment if the worst-case climate change projections finally materialise.
Developed in close collaboration with KWY.studio.