We Are All In The Same Boat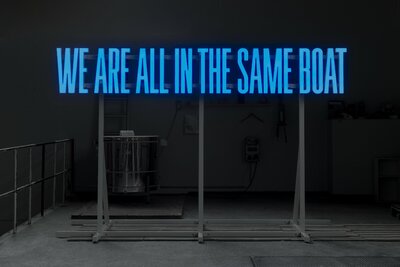 We Are All In The Same Boat is a work by SUPERFLEX that translates the suggestive sentence into a large scale installation. It consists of an illuminated signboard made with ocean blue LED letters, mounted on an aluminum frame, and weighed down by orange PVC sand bags. It is reminiscent of the commercial signage frequent in urban landscapes and generally located on top of buildings.
In this context, We Are All In The Same Boat transforms the nature of commercial signage and uses its captivating aesthetics for a more ambitious purpose. Descending from a rooftop and installed in a public space or institution, the sign confronts the viewer and invites to reflect on the meaning and reach of the famous expression.
The sentence, suggestive of the common human condition is usually referring to unpleasant or difficult situations which affect us all, and acts as a reminder of our shared responsibilities. With a multilayered approach, the work subtly queries whether, as contemporaries, we suffer from the same issues, endure the same difficulties, and if we are equally equipped to facing them.