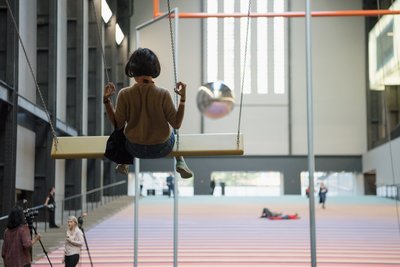 One Two Three Swing! is a large-scale public space installation for the Tate Modern's 2017 Hyundai Commission.
It is the first Turbine Hall commission to extend beyond the gallery walls, where it activates the space throughout the day and night and continue to extend over time. Conceived in states of apathy, production, and movement, One Two Three Swing! extends as an orange, human-powered line from the Turbine Hall gallery, into the Tate Modern's south landscape, and around the world.
One Two Three Swing! is developed in close collaboration with KWY.studio and Nupergo.
Curated by Donald Hyslop.