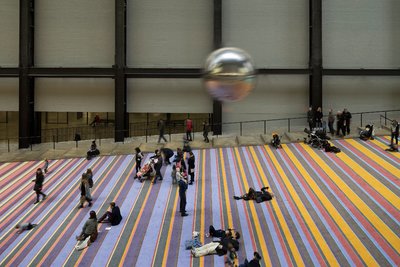 During the 16th century, the long-held view that Earth was the stationery centre of the universe was challenged by Renaissance scientists. Using a simple telescope as well as observing the movement of a pendulum, Galileo Galilei concluded that the Earth is rotating around the sun. Threatened with torture and death by the major spiritual, political and economical force of that time, the Catholic church, Galilei was forced to retract his conclusion, but afterwards supposedly uttered the words: "And yet it moves."
Today the major global power – and perhaps religion – is capitalism. We are unable to even fathom alternatives to the current system, as if we were hypnotised into believing only in a market-driven ideology. And Yet It Moves consists of a gigantic swinging steel pendulum that the audience is invited to lie under on an expansive, soft carpet. Designed with a colour scheme inspired by a selection of national banknotes, the carpet appears as a flickering bed of currency where the participants can indulge in a state of apathy. As the beliefs of the bishops and priests were set in stone, so too seems our current belief in a fixed system of commodified life. And yet the pendulum moves!
Originally conceived for the Hyundai Commission 2017 in Tate Modern's Turbine Hall. Developed in close collaboration Rasmus Koch Studio and KWY.studio.