2000 Watt Society Contract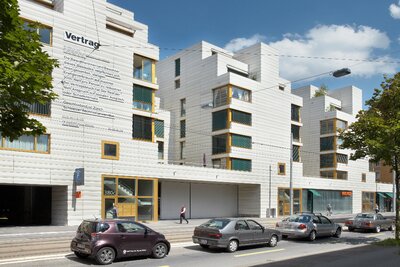 The "2,000 watt society" is a concept developed by the Swiss Federal Institute of Technology in Zürich in 1998, setting a target of only 2,000 watts of energy usage per person in the first world by the year 2050. The current average usage in Switzerland is 5,000 watts per person a year (compared to 6,000 watts in Europe and 12,000 in the US). Attempting to channel individual behavior into a collective response, the concept aims to limit not only household energy usage but the total for the whole society.
Originally commissioned as a public artwork about the 2,000-watt society for a new housing complex in Zürich, SUPERFLEX produced a mural in the form of a contract, the 2000 Watt Society Contract. The artwork consists of a contract between the residents of the building in Badenerstrasse 380 and the rest of the world, promising a commitment to lower energy usage. It takes the form of a large-scale white surface (resembling a A4 paper) with black text, mounted onto the building. By formulating this vision in public, SUPERFLEX furthers the 2,000 watt society's goal of highlighting our shared responsibility for energy consumption.
Commisioned by Bgz Baugenossen schaft Zurlinden. Architect: pool Architekten. Graphic design by Rasmus Koch Studio. Legal consultation by Daniel McClean.