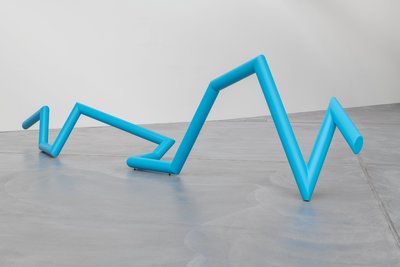 When initially viewed, the sculptures present as modernist, minimal art objects. But seen from a particular perspective, the structure reveals itself to be an image familiar from the world of economics: the zig-zagging lines of a market graph. The zig-zagging blue lines in fact represent segments of the fluctuating value of Bitcoin during an 18-month period, which saw the largest peak of value in bitcoins so far.
In a paradoxical way, Connect With Me translates the intangible substance of cryptocurrencies into sculptures, giving form to the only discernible image we have of them: their progress over time. Bitcoin was the first cryptocurrency to be released into the market in 2009 and is to date the largest of more than 1000 cryptocurrencies. Based on a mathematical principle of decentralised and distributed ledger, the digital currencies allow for—in theory—unrestricted and free transactions, characteristics appealing to both anarchistic and neoliberal agendas.
As an altered version of the slogan of a private bank, the title underlines the suggestive language of capitalism, wherein we simultaneously experience intimacy in a commodified reality. Perhaps it is an invitation to a dream of utopian freedom; perhaps to a capitalistic nightmare. Perhaps to both at the same time.
Developed in close collaboration with KWY.studio.