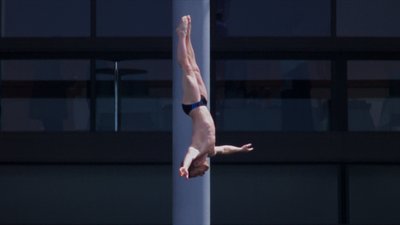 The Mærsk Opera is a documentary collaboration by SUPERFLEX, composer Anders Monrad and journalist Nikolaj Heltoft. A film work in three acts, The Mærsk Opera is based on true events leading up to the opening of one of the most controversial buildings in Denmark's recent history.
The charitable foundation of Denmark's richest man, the late Mærsk McKinney-Møller, donated the Opera House as a "people's gift" to the City of Copenhagen on condition of its placement on an axis from The Marble Church through the Amalienborg royal palace. A public debate about artistic integrity, tax deductions and the public's reception followed the building process and continues to this day.
A tale of power-brokering leading up to the building's completion is told through a composition of documentary filmmaking, animation, and material realism, and from the perspective of improbable characters; industrious ants, sonically manipulated liquid, a drifting meteorite, competitive cliff-divers, and a dog named Lea.
The Mærsk Opera premiered at the 2017 CPH:DOX, Copenhagen International Documentary Film Festival.
The opera score was first presented at the Copenhagen Contemporary Art Center as part of the Copenhagen Art Festival in 2012.
Director: SUPERFLEX
Composer: Anders Monrad
Libretto: Nikolaj Heltoft & SUPERFLEX
Duration: 69 min
Subtitles: English