Investment Bank Flowerpots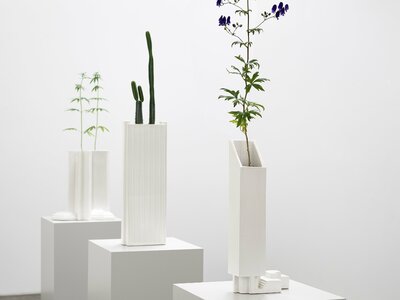 Investment Bank Flowerpots are models of the headquarters of some of the world's largest investment banks, including GoldmanSachs, Deutsche Bank, CitiGroup and JPMorgan Chase. Each model serves as a flowerpot for hallucinogenic plants. The work shrinks large-scale, prominent architectural structures into small-scale objects of everyday use, transforming symbols of domineering power into tranquil flowerpots with which one can form a new, domestic and even symbiotic relationship.
Each version of the work contains a different plant growing from the models, including Peyote, San Pedro cacti, and marijuana. The euphoric effects of the plants are reminiscent of the effects of monetary transactions: the unbridled free market can be intoxicating, and the global economy is shaped by this delirious power.
Investment Bank Flowerpots exist in various scales and materials: smaller ceramic versions as well as larger versions cast in concrete, all in a white finish. The combination of bank and plant name comprises the title of each work, for example, Investment Bank Flowerpots/Deutsche Bank Cannabis sativa.