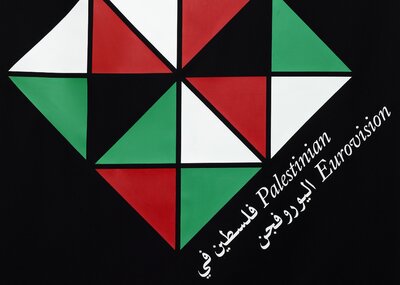 Palestinian Eurovision is a collaboration between the Palestinian Broadcasting Corporation (PBC), the Sabreen Association for Artistic Development, and SUPERFLEX. In 2007, the PBC applied to the European Broadcasting Union (EBU) for active membership and thereby sought participation in the 2008 Eurovision song contest. The motivation behind the application was a wish to further build a media infrastructure in Palestine, as well as to contribute to Eurovision's tradition of creating positive cultural experiences. The EBU area is not restricted to Europe, and already includes 56 nations, among them the western part of the USSR, the northern part of Saudi Arabia, Iraq, Jordan, and Israel.
SUPERFLEX has worked as consultant to Palestinian Eurovision since 2008 and has created a series of painted banners featuring logos developed to advertise the campaign. After intensive legal work, as well as numerous meetings and high-level negotiations, the Palestinian Broadcasting Corporation has still not achieved active membership of the European Broadcasting Union.
Graphic design by Rasmus Koch Studio.