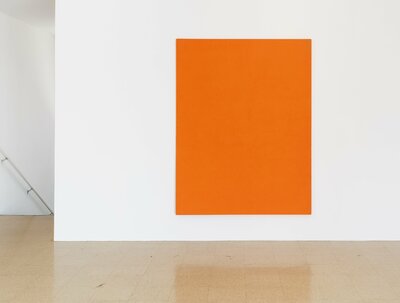 In 1995, SUPERFLEX was invited to participate in a painting exhibition (Painting after Painting at Kastrupgårdsamlingen, Copenhagen), although the group had never shown any interest in the medium.
Fascinated with the Yves Klein's International Klein Blue, they worked with several specialists in an effort to replicate Klein's method of fixing pigment to the surface of the canvas. No one could figure it out, so SUPERFLEX attempted it on their own, resulting in orange pigment falling from the painting and spreading all over the exhibition space. The ensuing work is an orange painting entitled SUPERFLEX On Canvas.
While International Klein Blue is patented and represents the artist's singular vision, SUPERFLEX's orange is freely available for anyone to use and represents SUPERFLEX as a brand and a company. At the time, the colour scheme of SUPERFLEX's branding was orange, white, and black, with orange being the most prominent. This colour scheme, called Supercolours, was devised by Rasmus Koch Studio.