The Green Island In The Red Sea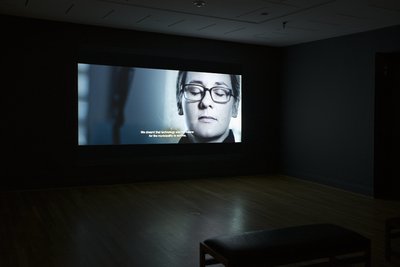 SUPERFLEX presents the untold history of the robot citizenry of Vallensbæk, a suburban municipality south of Copenhagen. The filmwork, The Green Island In The Red, Sea traces Vallensbæk's development history to its progressive campaign for a robot-integration policy in the 1970s. Dreaming of a city resilient to the threatening tide of economic crises and populist reforms, the citizens of Vallensbæk adopted policies to integrate robots into the human population thereby securing continuity of political thoughts and lifestyle.
By presenting a narrative for the trajectory of the past, the filmwork challenges seeming certainties of our present and opens discussion around the prospect of an automated future. The - perhaps - fictional history of securing rights for one city's robot citizenry raises current and emerging questions around the rights of the robots among us.
As a society we need to find solutions to how we legally recognise artificial intelligence. We are challenged to secure working conditions in a shifting economy. And we need to investigate how we can integrate automated lifeforms and to which extent.
Perhaps we can look to the robot integration process of Vallensbæk for answers.
The Green Island in the Red Sea was commissioned by DIAS (Digital Interactive Art Space) and first presented as a film installation at the Vallensbæk S-train station.