The Green Island In The Red Sea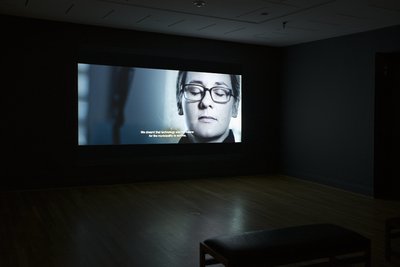 SUPERFLEX presents the untold history of the robot citizenry of Vallensbæk, a suburban municipality south of Copenhagen. The filmwork The Green Island In The Red Sea tells the story of Vallensbæk's progressive campaign for a robot-integration policy in the 1970s.
Dreaming of a city resilient to economic crises and populist reforms, the citizens of Vallensbæk adopted policies to integrate robots into the human population. The film challenges apparent certainties of our present and opens discussion around the prospect of an automated future. The – perhaps – fictional history of securing rights for one city's robot citizenry raises questions about the rights of the robots among us.
As a society, we need to find solutions to how we legally recognise artificial intelligence and how to secure decent working conditions in a shifting economy. At the same time, we need to investigate how, and to what extent, to integrate automated lifeforms. Perhaps we can look to the robot integration process of Vallensbæk for answers.
The Green Island In The Red Sea was commissioned by DIAS (Digital Interactive Art Space) and first presented as a film installation at the Vallensbæk S-train station.
Credits
A SUPERFLEX FILM
Director: SUPERFLEX
Manuscript: SUPERFLEX
Camera: Johan Schneévoigt
Editor: Copenhagen Brains
Production: SUPERFLEX Studio
Production manager/development: Angela Adeix
Assistant editor: Ribka M. Pattinama Coleman
Original soundtrack: Black Institute
Research and development: Ribka M. Pattinama Coleman & Michelle Ruiz
Audio mix: Kruzh'em
Sound technician: Kristian Mondrup
Manuscript consultant: Olof Olsson
Voice over: Rudi Køncke
Robot 1: Rasmus Møller
Robot 2: Pernille Sturup
Robot 3: Tenna Rasmussen
Robot 4: Kim Boldt Rasmussen
SUPERFLEX would like to thank
DIAS/ Rasmus Vestergaard, Julie Tvillinggaard Bonde & Christian Riis Sørensen, Vallensbæk Kommune
Commisioned by DIAS 2017
Produced with support from the Danish Arts Foundation.