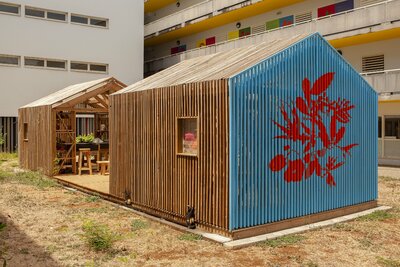 The Nursery Garden is a collaborative public artwork by SUPERFLEX designed for three public hospitals in the French islands of Réunion and Mayotte located in the Indian Ocean. The project aims to facilitate an exchange of knowledge between different cultures of medicine, challenging the common boundaries between "modern" and "traditional" medicine.
In each hospital courtyard, a plant nursery and a surrounding garden are built, containing medicinal plants growing on each island. The nursery gardens provide a neutral setting where patients, visitors and hospital staff can take a break, meet each other, learn about botany, join a workshop, or nurture the growing plants. Colourful silhouettes of the plants are painted onto the walls and corridors of the hospitals, creating a visual link between the three sites. As the plants grow larger, they are replanted onto the outer hospital grounds. As more plants are grown and archived, local culture and knowledge of the medicinal plants is maintained for future generations.
The Nursery Garden was developed with local hospital representatives from both islands, acting under a joint initiative by Fondation de France called "Les Nouveaux Commanditaires." It was designed in close collaboration with Rasmus Koch Studio and landscape architect Sébastien Clément. Partners of The Nursery Garden are: Directorates of Cultural Affairs of Réunion and Mayotte, the Regional Agency for Indian Ocean Health, The University Hospital Centre of Réunion and the Hospital of Mayotte, Daniel & Nina Carasso Foundation & Fondation de France.