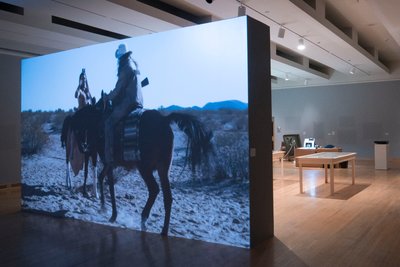 The Parley is a two-screen film installation based on the painting "The Pioneer and the Indian" by Frederic Remington (1861-1909). One screen shows a live-action restaging of the painting's scene, which portrays a negotiation between two individuals - a pioneer and a Native American. Filmed with a Phantom Flex high-speed camera, the scene is slowly scanned, detail by detail, transforming the static painting into an almost three-dimensional experience. The other screen shows the original painting being thoroughly examined by scientists in a laboratory using a PIXE (Particle Induced X-ray Emission) spectrometer. This process helps to identify the elemental make-up of a material.
Frederic Remington played a significant role in constructing the myth of the American West, and his impact can still be seen in popular cultural images of the West. The Pioneer and the Indian was one of his most prolific paintings, but, for several years, rumours about the painting being a fake had begun to circulate. SUPERFLEX initiated forensic examinations that confirmed those suspicions to be true. The investigation revealed the presence of titanium white, a type of paint invented years after Remington's death.
"The Parley" is the title of the original work by Remington, which was used as a reference in producing its forgery, "The Pioneer and the Indian".
Credits for screen 1:
Director of Photography - Andrew Truong
Steadicam Operator - Scott Baker
1st AC - Nick Forte Phantom
Technician - Sean Gearing
Sound Designer - Adam Sanborne
Editor - MOSSS
Colorist - MOSSS
Credits for screen 2:
Camera: Rowan Burkam
Scientists: Nate Newman (Lamonte H. Lawrence Professor in Solid State Science), Dana M Tepper (Chief Conservator), Julio Morales (Chief Curator)