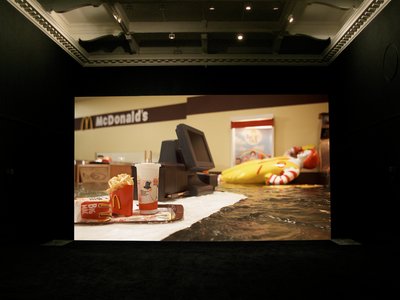 Flooded McDonald's is a filmwork in which a convincing life-size replica of a McDonald's fast food restaurant gradually floods with water. Furniture is lifted up by the water, trays of food and drinks start to float around, electronics short circuit and eventually the space is completely submerged. Using Hollywood film techniques while resisting any categorisation as a documentary or art film, Flooded McDonald's playfully and irreverently confronts apocalyptic themes, which came to the forefront of cultural consciousness after the 2008 financial crisis and amidst climate disasters.
Using the global vocabulary of the famous fast food chain, the film documents the submersion of McDonald's symbols. As they bob and sink in the flooded space, the inanimate objects become activated as the fated-characters of an unconventional post-apocalyptic film. Through the use of heavy symbolism and humour, Flooded McDonald's hints at the influence and inaction of large multinational companies surrounding climate change, questioning with whom ultimate responsibility lies.
Flooded McDonald's is produced by Propeller Group (Ho Chi Minh City) in association with Matching Studio (Bangkok) and co-produced by South London Gallery (London), Louisiana Museum of Modern Art, (Humlebæk, Denmark) and Oriel Mostyn Gallery (Llandudno, Wales) with support from the Danish Film Institute.
Flooded McDonald's was first exhibited at South London Gallery in 2009. The exhibition is supported by the Danish Arts Council's Committee for International Visual Art.