The Corrupt Show and The Speculative Machine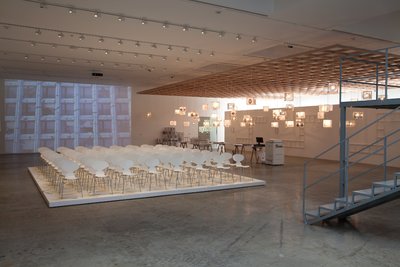 The Corrupt Show and the Speculative Machine consists of two parts: the first, The Corrupt Show, is made up of 58 works displayed in the exhibition space and will include newly made pieces as well as earlier projects. The second part, The Speculative Machine, is conceived as a series of discussions with experts from different fields such as politics, education, and culture. These discussions will be held during the run of the exhibition in different places in Mexico City.
The exhibition divides SUPERFLEX's work into four structural cores: intellectual property, films, legal contracts, and works that involve people in public contexts.
The title of the exhibition reflects the intent of SUPERFLEX to destabilize social processes and provoke reflection on the strategic possibilities of social transformation. By encouraging individuals to participate in illicit activities, SUPERFLEX suggests that the act of corrupting can, paradoxically, have a positive social function.
For this exhibition SUPERFLEX will produce new pieces and reactivate earlier ones. Rather than offering a traditional retrospective, this exhibition aims to present their works as "models" that respond directly to specific environments. In this sense, the exhibition is dynamically linked with social, economic, and political processes— production, distribution of labor, energy, exchange, wealth, consumption and corruption—while at the same time exploring different aspects of human activity.
SUPERFLEX transforms the exhibition space into a product distribution center, thereby integrating the structure of economic production within the institutional space. Outside of the exhibition space, SUPERFLEX will activate a series of works in different locations, thus creating a dynamic platform in which the public can participate.
Curated by Patrick Charpenel and Daniel McClean.