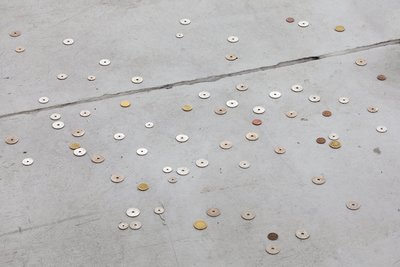 Lost Money consists of a number of coins of a local currency dropped by the artists, scattered on the floor, and then permanently welded into their positions on the ground. In the context of the financial crisis in 2008, the work is a grave site of value. The coins appear like petrified fossils in the ground, relics of value; they act as physical evidence of financial disaster in a world of otherwise invisible transactions.
In their inertness, the coins temporarily obstruct a system of commodity fetishism and monetary value. The viewer's desire to grasp and collect the currency for their worth is thwarted, rendering the money valueless. Instead, the work invites the viewer to become an archaeologist of value, reflecting on money's long evolutionary history of boom, bust and perhaps even extinction.
Lost Money imagines a future in which currency exists only as vestigial artifacts. Whether due to evolution or a global shift in priorities, perhaps we can be freed from the weight of value. Perhaps it is possible to become inert in the face of the relentless momentum of currency, and imagine a future with wildly different notions of worth.