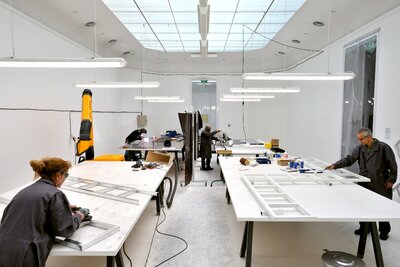 Free Sol LeWitt is a workshop producing copies of the work by Sol LeWitt, Untitled (Wall Structure), 1972. The workshop produces exact replicas of the artwork in metal and distributes them to the public, free of charge.
LeWitt famously wrote that "I believe that ideas, once expressed, become the common property of all. They are invalid if not used, they can only be given away and not stolen." Taking the artist's word seriously, Free Sol LeWitt questions the restrictions of copyright, the relevance of originality, and the tendency to safeguard art in museums, distant from people's daily lives. Through a lottery system, the works are "set free" from the museum or gallery setting, to take up residence in people's homes.
Free Sol LeWitt was originally conceived for the exhibition In-between Minimalisms / Free Sol LeWitt curated by Christiane Berndes, Daniel McClean and SUPERFLEX at the Van Abbemuseum, Eindhoven, 2010.