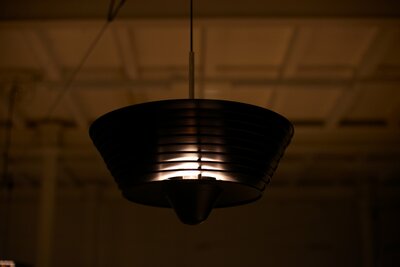 Blackout is a collaboration with Simon Starling centred around the production of a lamp designed by Poul Henningsen in 1941. Designed for the Tivoli gardens in Copenhagen during the Second World War, Henningsen's Blackout lamp does not expose any light upwards, which meant that the Tivoli gardens could stay open regardless of the blackout prohibitions during the war.
Inspired by this specific lamp, SUPERFLEX and Simon Starling designed a new lamp and conceived a "Blackout Lamp Factory" in which one handmade lamp is produced each day and put on display. As more lamps are made, the space is gradually illuminated. In this version, all the surfaces are painted black, enforcing the blackout effect further. In addition, a Heidelberger press is used to print a new photograph documenting the day's process.
Blackout was originally conceived for the exhibition Blackout in 2011 at Brandts in Odense, Denmark.