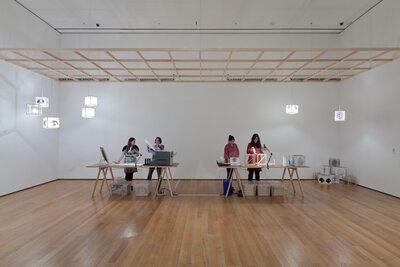 Copy Light Factory is a workshop where visitors are invited to produce cube-shaped lamps featuring photocopied images of well-known lamp designs. The visitors print out the images, glue them onto wooden cubes, and then hang the lamps in the gallery. Over time, the gallery is gradually illuminated. Each copy is a confrontation with intellectual property laws. By participating, the audience members transform private property into public, shared knowledge.
Copy Light Factory seeks the border between the copy and the original. As a copy of a copy, the Copy Light lamp turns into something new: an original lamp that highlights the problems of the current copyright system. Questioning the logic of legal restrictions on reproduction and distribution, the Copy Light lamp is easily reproducible and modifiable: when someone buys one, the owner is free to change the image to a lamp design of their own choosing.
Copy Light was developed in the context of Copyshop, 2005.