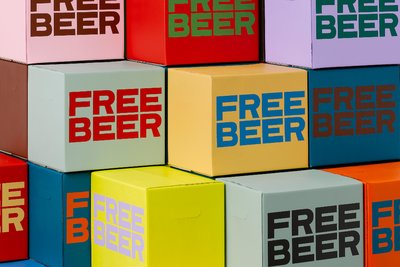 Free Beer is a beer which is free as in 'free speech', not in the sense of 'free beer'. The name plays on a well-known quote by free software activist Richard Stallman: "'Free software' is a matter of liberty, not price". Free Beer aims to create a counter-system to that of copyright, which is a regulative system of of law and metaphorical rights.
Originally named Vores Øl (Our Beer), the beer was conceived in 2004 by SUPERFLEX and students from the Copenhagen IT University. The project applies modern free and open-source methods to a traditional real-world product. The recipe and branding elements of Free Beer are published under a Creative Commons (Attribution-ShareAlike 2.5) license, granting anyone the right to use the recipe and logo to brew their own Free Beer, or to create a derivative of the recipe and name. The initial version of Free Beer is based on classic ale brewing traditions, but with added guaraná for a natural energy boost. Free Beer is based on Vores Øl v. 1.
Free Beer has been brewed in breweries, workshops and kitchens worldwide with and without SUPERFLEX participation in Taipei, Sao Paolo, Los Angeles, Munich, Knoxville, Lausanne, Cornwall, Bolzano and Auckland to name a few.