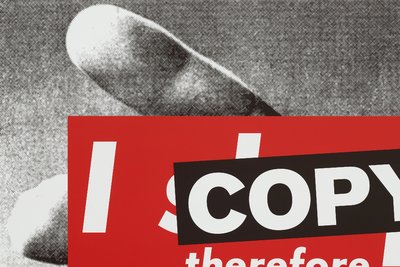 Created, appropriated and redistributed by different hands and minds, objects are ever-shifting in their integrity always in the process of becoming a new original. I Copy Therefore I Am alters Barbara Kruger's 1986 iconic print work "I shop, therefore I am" to read "I copy, therefore I am" and transforms this idea into a commodity.
I Copy Therefore I Am is a print series that was produced following the establishment of Copyshop - a shop and information forum challenging the regime of copyright and the idea of intellectual property. Where the Kruger version modified the famous philosophical quote by Descartes into one critical of consumerism, SUPERFLEX's version yet again turns it back to the existential statement: we are what we copy.
The new original was reproduced as a full-scale vinyl print for Art Basel in 2011. I Copy Therefore I Am served is a culmination of SUPERFLEX's interest in the political and philosophical implications of copyright law within the context of the contemporary art world of dealing and collecting.