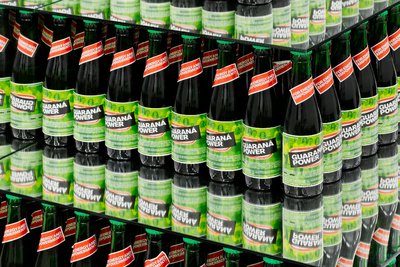 In 2003, SUPERFLEX initiated a collaboration with a guaraná farmers' cooperative from Maués in the Brasilian Amazon. Through an extended dialog aimed at self-organisation-- SUPERFLEX's term for ground-up decision-making--SUPERFLEX and the farmers decided to work toward creating their own guaraná drink, called "Guaraná Power". The project was a political response to the activities of the multinational corporations Xxxxx and XxxxxXx -- a corporate cartel whose monopoly on the purchase of guaraná seeds has driven the price paid for the raw material down by 80%, while the cost of their products to the consumer has risen.
SUPERFLEX's design of the guaraná drink bottle features the original logo of the mainstream guaraná drink, but blacked-out by SUPERFLEX's original Guaraná Power logo. The Guaraná Power artwork encompasses everything from the initial self-organization of the guaraná farmers to bars and ironic posters satirizing multinational corporation advertising of the mainstream-brand guaraná drink. As a whole, the multimedia work accelerates conversations about brand value as a multinational political force, commodity and raw material.
Before the 27th São Paulo Biennial in 2006, the president of the biennial foundation censored SUPERFLEX by forbidding the curators from displaying Guaraná Power. To bring attention to the struggle of the guaraná farmers, SUPERFLEX responded by further self-censoring the label. As a result, the hyper-censored versions of the drink and art works were created and exhibited.
Identity and design in collaboration with Rasmus Koch Studio.