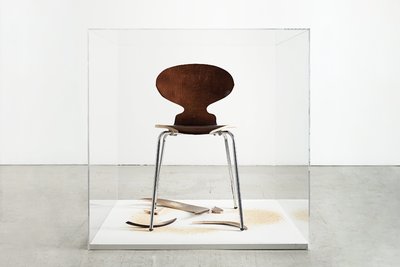 Copy Right is a modified commercial replica of the renowned Ant Chair, designed by Danish architect Arne Jacobsen in 1953. The Copy Right chair has been manually modified by SUPERFLEX in an attempt to correct it and thereby make it more similar to Jacobsen's original 1953 design. Hence, mass-produced imitations of a design classic are turned into unique pieces. Is it possible for a copy to be transformed back into an original through physical adjustment?
Copy Right questions the dialectic between the notions of originality and copy. As a result of a language of copyright law and intellectual property rights, the right to originality is beholden only to a small population of individuals with immense private wealth. Like other essential resources such as food, water, education, and medical care, the claim to originality and authenticity is reserved for a small and privileged population. By transgressing the legal limits of imitation and copy through modification, Copy Right questions whether intellectual property rights must also be modified to serve the majority population.
Copy Right takes form as a chair-installation arranged together on a platform, or displayed as single chairs.
Design in collaboration with Jacob Breinholt Schou.