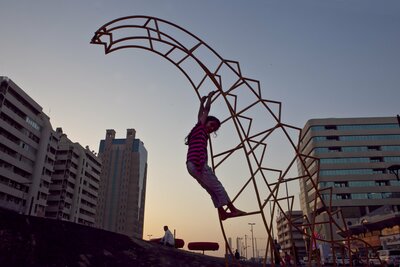 The Bank is an urban park on Bank Street in Sharjah. Originally, many banks were situated there, but they eventually left for more lucrative locations, and so SUPERFLEX has imagined a new, non-monetary banking model for the street.
What if we were to regard the sum total of memories and stories of the people in this area as the real capital of the street? And what if this new currency could be invested in the new Bank Street and converted into physical objects? The result might be a credit default swap in the form of a rusty metal dinosaur from a Portuguese suburb. Or a cashpoint that dispenses a ceramic pot of drinking water from a neighborhood in Islamabad. The Bank is an urban currency converter of personal memories and stories.
People from the area were asked to nominate specific city objects – such as benches, trees, playgrounds and signage from other countries – that have meaning to them, representing anything from incredible stories to vague memories. These objects were chosen from the home country of the inhabitants or from a place they encountered through traveling. The objects were either produced in a 1:1 copy or bought and transported to the site.
The Bank was designed in collaboration with Schul landscape architects and commissioned by Sharjah Art Foundation.