Foreigners, Please Don't Leave Us Alone With The Danes!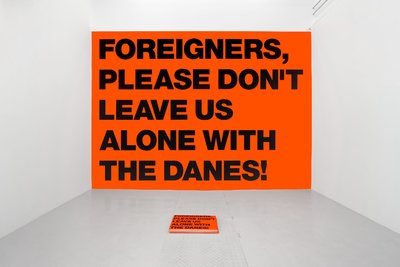 In 2002, posters with the words 'Foreigners, please don't leave us alone with the Danes!' were put up in the streets of Copenhagen, as a comment on the increasingly reactionary political climate regarding immigration in Denmark. During the Danish EU Presidency in 2002, this development in the Danish public sphere also became a point of interest and discussion in the international press.
Today, the poster has become embedded in the cultural consciousness of Denmark, and can frequently be found in local restaurants, cafes, and living rooms, familiar to any local. Thus, the actual message behind the poster has since become subtextual in recent years: the poster has become a humorous cultural object of Danish self-deprecation over the past decade.
SUPERFLEX has reprinted and redistributed the posters, drawing attention to the poster's evolution from an image of political protest to a form of brand commodity, whose original message still resonates within a contemporary Danish political context.
The posters were put up in Malmö and Copenhagen as part of the exhibition The Global Complex at Grazer Kunstverein & O.K. Centrum für Gegenwartskunst Linz in Austria, 2002. Same year, posters were put up in Odense in connection to Skulptur i Eventyrhaven & Vollsmose. 



Graphic design by Rasmus Koch Studio.