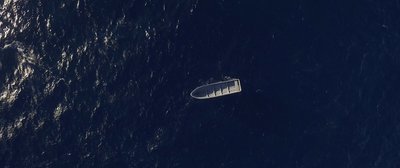 Kwassa Kwassa is a filmwork commissioned by the French cultural ministry for a public arts project on the islands of Mayotte and Anjouan in the Indian Ocean. In 2014, Mayotte voted in a referendum to rejoin France, making Mayotte the outermost territory of the European Union. As a result, Mayotte has become a destination for refugees from the neighbouring Comorian island of Anjouan just 70 km away. The film documents the arduous process of constructing fiberglass fishing boats, which are also used to smuggle refugees from Anjouan to Mayotte. The film's title, Kwassa Kwassa, means "an unstable boat" in the local language of the Comorian Islands. These "unstable boats" are the fragile vessels carrying dreams of reaching a better life on the other shore – where arbitrary lines on a map decide the fate of the boats' passengers. Many people have lost their lives in the journey to reach Mayotte.
Throughout the film, a narrator weaves the story of the contemporary refugee crisis with the myth of Europe. The myth states that a Lebanese woman named Europa was seduced by Zeus, who, disguised as a white bull, takes Europa with him by boat to the shores of Greece – geographically mirroring the tumultuous journey taken by millions of refugees to Europe today. Kwassa Kwassa explores the mythical nature of the nation state and political borders. The film documents how the maintenance of these myths forces many to embark on often deadly odyssies across the ocean, such as the one taken from Anjouan in "unstable boats."
Credits
Filmed September 2015 in Anjouan.
Director: Tuan Andrew Nguyen & SUPERFLEX
Cinematography: Ha Thuc Phu Nam

Drone Pilot: Le Tran Trung

Voiceover: Soumette Ahmed

Logo/Poster: Rasmus Koch Studio
Commissioned by Beaufort Beyond Borders 2015 and Marrakech Biennale 6. Supported by the Danish Art Council.