Supercopy/Biogas PH5 Lamp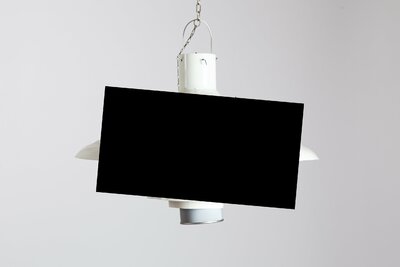 Originally designed by Danish architect, designer, and critic Poul Henningsen (1894-1967), the PH5 lamp is a famous example of Danish design. In 2002, SUPERFLEX modified the PH5, turning it into a biogas lamp, rethinking the original concept to make it accessible for the general population and adaptable to a globalised world.
The Supercopy/Biogas PH5 Lamp runs entirely on gas and is designed for people living in areas with no access to electricity. The limited edition of the lamps were handmade in Bangkok, Thailand.
When SUPERFLEX initially exhibited the Supercopy/Biogas PH5 Lamp at Rooseum (Malmö, Sweden) in 2002, the show was immediately met with a cease-and-desist letter by the copyright holders Louis Poulsen Lighting A/S, a large Danish manufacturer of lamps. Demanding the destruction of the lamps, the censorship of certain words describing the work, and the suppression of any kind of documentation of the lamps, Louis Poulsen Lighting A/S threatened both SUPERFLEX and the art institution hosting the exhibition with dire legal consequences. In response to these threats, SUPERFLEX decided to only exhibit the lamp packed in a box in the future.